The Adrian Bo & Nic Fren Academy Hub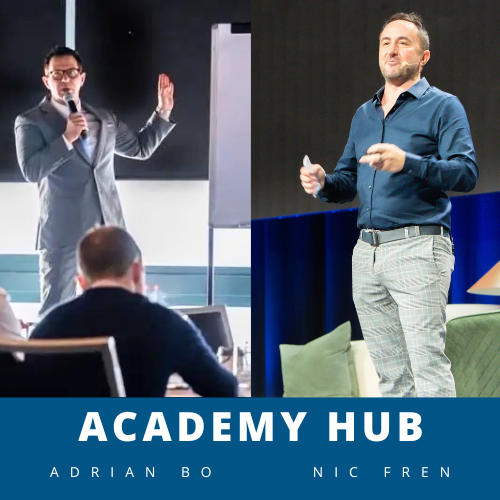 The Adrian Bo & Nic Fren Academy Hub is a specialised training platform for real estate agents and business owners to enhance their digital marketing skills, build their brand, and grow their business. Adrian Bo and Nic Fren, two renowned industry experts, with over 48 years of combined experience, identified a gap in the market and collaborated to provide a solution.
Adrian Bo is a top industry spokesperson in Australia with over 30 years of experience, and Nic Fren is the CEO and founder of Bespoke Media Group, specialising in digital marketing for the real estate industry for over a decade. The academy provides a range of training and education, including super team development, growth, structure and readily available social media marketing content. The academy offers guidance, inspiration, implementation strategies & training.
Shortly after purchase you will receive an email with instructions for logging into the Academy
A subscription is in place for 12 months which will then roll into a monthly membership. Cancellation notice after 12 months will be 30 days in writing. Please note, you may be liable for the balance of your 12 month subscription, should you decide to cancel your membership early.